Pelosi also dropped her usual pleasantries when introducing the President.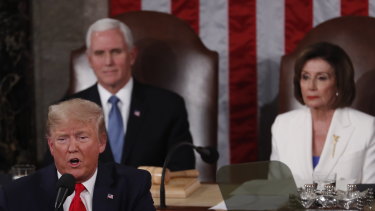 She would usually say: "I have the high privilege and distinct honour of presenting to you the President of the United States." Instead, she introduced Trump without referring to honour or privilege.
The US President's annual address to Congress comes on the eve of Trump's inevitable acquittal in his Senate impeachment trial and with a respected poll showing his approval rating soaring to an all-time high.
Trump opened with a heavy focus on the strength of the US economy and the country's historically-low unemployment rate, in line with the speech's theme: "Great American Comeback".
"In just three short years, we have shattered the mentality of American decline and we have rejected the downsizing of America's destiny," Trump said."We are moving forward at a pace that was unimaginable just a short time ago, and we are never going back!"
He emphasised the economic low-income earners had enjoyed since his election.
"Since my election, the net worth of the bottom half of wage earners has increased by 47 per cent, three times faster than the increase for the top 1 per cent," Trump said.
"This is a blue collar boom."
The address comes just a day after the Democratic Party's Iowa caucus fiasco that saw the results delayed by almost 24 hours. The progressive side of politics has yet to settle on a candidate they believe can take Trump on in November.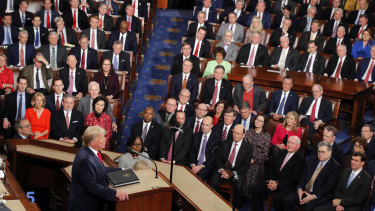 The State of the Union – an event laden with pomp and ceremony – is attended by almost all members of Congress. Justices, top military generals and members of the President's cabinet also attend.
Some progressive congresswomen, including New York representative Alexandria Ocasio-Cortez, have decided to boycott the event in opposition to the President's policies.
As they did last year, almost all the female Democratic members of Congress are dressed in white for the event in a nod to suffragettes who campaigned for gender equality.
The President's daughter Ivanka Trump arrived, shaking hands with members of Congress, alongside her husband and fellow senior White House advisor Jared Kushner.
First Lady Melania Trump, dressed entirely in black in contrast to the Democrat women in the chamber, entered to hearty applause.
Chief Justice John Roberts, who has been presiding over Trump's Senate trial, is seated only metres away from the President. Supreme Court justices Ruth Bader Ginsburg and Sonia Sotomayor are not in attendance.
The latest Gallup poll released just before the speech showed Trump's job approval at 49 per cent, the highest it has been since he took office.
Matthew Knott is North America correspondent for The Sydney Morning Herald and The Age.