When complete, State Library Station will be about 240 metres long and 30 metres wide with 19-metre platforms that Mr Andrews says will be some of the widest underground metro platforms in the world.
The station will allow travellers underground access to Melbourne Central Station for quick train changes between Metro Tunnel and City Loop train services.
The government says the Metro Tunnel will create capacity for more than a half-a-million extra passengers per week across Melbourne's train network during peak periods and slash travel times.
The government says it is happy with the progress on the the $11 billion, twin nine-kilometre tunnels between Kensington and South Yarra under the CBD, due for completion in 2025.
But the project is reportedly heading for budget over-runs of up to $3 billion and the delivery timetable is also believed to be under pressure.
Loading
Ms Allan would not go into detail on Thursday on delays or overspends, simply saying there were "constant conversations" between the government and its builders on the cost and timing of every big project.
"Big and complex projects come with challenges from time to time and you either work through those challenges or you run away from them," the minister said.
"We don't run away from working through challenges when it comes to the delivery of our big transport projects."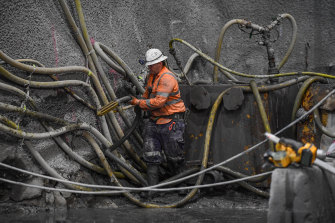 The Premier said the government would provide an update on costs and timing on the vast project when one was needed.
"If and when we need to update you on those discussions and any impact on cost, we will," the Premier said.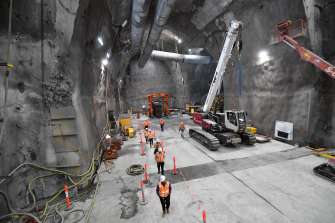 "Today is not a day to do that, today is a day to celebrate the work of 3000 amazing people who are getting things done and as you can see, we are getting this thing built.
"We are big steps closer to delivering the type of turn-up-and-go public transport system that every Victorian is entitled to."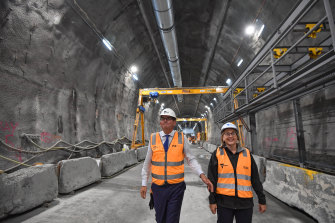 Noel Towell is State Political Editor for The Age