"Kirk's life was well lived, and he leaves a legacy in film that will endure for generations to come, and a history as a renowned philanthropist who worked to aid the public and bring peace to the planet.
"Let me end with the words I told him on his last birthday and which will always remain true. Dad- I love you so much and I am so proud to be your son."
The screen icon – who served in the US Navy from 1941 to 1944, before moving into showbiz in radio and theatre – had a career spanning six decades in film and TV, including classics such as Spartacus, Ace in the Hole, Lust For Life and Paths of Glory.
At the Oscars, he was nominated for three best actor awards, for 1949's Champion, 1952's Bad and the Beautiful and 1956's Lust For Life, where he played Vincent Van Gogh. However, he only took home his first trophy in 1996, a lifetime achievement award honouring "50 years as a creative and moral force in the motion picture industry".
His last film role was in 2004's Illusion, where he played a famed Hollywood producer nearing death.
In 1982, he had a dual role in the Australian classic The Man From Snowy River, where he played twin brothers who were the father and uncle of actress Sigrid Thornton's character Jessica Harrison.
Born Issur Danielovitch, the son of Jewish immigrants from what is now Belarus, in New York in 1916, Douglas legally changed to his stage name before entering the Navy.
He suffered personal tragedies and severe health problems in the 1990s. In 1991, he was the only survivor of a helicopter crash that killed two people. A 1996 stroke left him with a severe speech impediment.
After the crash, Douglas reconnected with his Jewish faith. He studied the Talmud and Torah and made his second bar mitzvah at age 83. He wrote two children's books about Judaism.
In 2002, he wrote My Stroke of Luck, detailing his battle with depression and helplessness after his stroke. Douglas said he felt so hopeless that he became suicidal, putting the loaded gun he had used in Gunfight at the O.K. Corral in his mouth. Before he could pull the trigger, he hit a bad tooth, causing such pain he had second thoughts.
He had four sons from two marriages, all of whom entered the movie business – Joel and Peter as producers, Michael and Eric as actors. Eric Douglas died in 2004.
Douglas celebrated his 90th birthday in December 2006 by issuing a news release urging "America's young people" to tackle problems such as poverty, global warming and AIDS.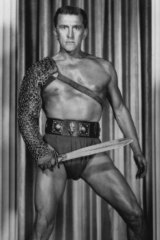 "The world is a mess," Douglas said, "and you are inheriting it. We have done very little to solve these problems. Now, we leave it to you."
In tribute, Hollywood stars praised Douglas's philanthropic efforts and his role in helping to end Hollywood's blacklist against suspected communists by ensuring screenwriter Dalton Trumbo got an on-screen credit for writing 1960's Spartacus.
"Kirk Douglas will always be an icon in the pantheon of Hollywood. He put himself on the line to break the blacklist," director Rob Reiner wrote on Twitter.
"He and his wife gave so much back to the community – they built shelters for homeless men, women and children… His was a philanthropic life well lived (mostly on the qt). And he was an amazing actor," added actor Donal Logue.
Loading
On Twitter, Arnold Schwarznegger reflected on the "real life hero".
"When we finally met on the set of The Villain, he couldn't have been any sweeter to me. I was a new actor and he was the perfect mentor," Schwarznegger wrote.
"He was already in his 60s but he was in unbelievable shape, and he could still jump off a trampline into his horse's saddle.
"He was the prefect role model and my career wouldn't be the same without him."
Robert Moran is a culture reporter at The Sydney Morning Herald and The Age