The court heard that during the investigation police put listening devices in Mr Savage's home and secretly filmed him to see his reaction to a child's Spider-Man suit which they had planted on a track he frequented in Kendall.
Mr Jubelin's barrister Margaret Cunneen SC said in one recording from Mr Savage's home in 2017, two days after he reported finding the suit, he said to himself out loud: "I'm going to run into your property … this is my place, you're in my place, do what I want … I'm not interested in your bullshit mate, you're a little boy, you're a nobody. You're just a little boy".
Ms Beacroft said there was "a lot of discussion surrounding that file", including whether Mr Savage had mentioned a Sydney suburb which was near to where William lived.
"The strike force was divided as to whether or not they were the words spoken," Ms Beacroft said.
Ms Cunneen said Mr Savage had also been recorded apparently talking to his wife Heather following a police interview in which he was accused of lying about his movements on the morning William disappeared. Heather had been dead for several years.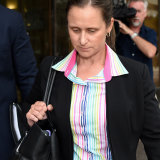 "Would you agree he was captured saying to her, even though she was deceased, 'make sure you don't tell anyone love, they're right after me … sorry'?" Ms Cunneen said.
The surveillance was not played before the court.
Ms Beacroft said she would have to check the transcript but she does recall something of that nature.
Ms Cunneen confirmed with Ms Beacroft that multiple people had been investigated in relation to William. She asked if a homicide squad commander said to Ms Beacroft of the investigation: "it's a waste of time, you'll never get anyone for this".
"That's possibly something that was said," Ms Beacroft said.
Ms Beacroft said she became aware in May 2018 that Mr Jubelin had made two recordings of Mr Savage on his phone in the past two days.
Ms Cunneen asked if, in effect, "everyone in the strike force knew Mr Jubelin had made these recordings".
"At some point in time," Ms Beacroft said. "I don't see how people would have not known."
"Did he tell you 'please don't tell anyone else' or any such thing?" Ms Cunneen said.
"No," Ms Beacroft said.
The hearing continues.
Georgina Mitchell is a court reporter for The Sydney Morning Herald.