Jessica Cerro, aka Montaigne, will represent Australia at the 65th annual Eurovision song contest.
The singer-songwriter was declared the winner of SBS's second-ever Australia Decides competition on Saturday evening. She emerged victorious from a field of nine other acts that included the likes of global superstar Vanessa Amorosi and former Australian Idol winner Casey Donovan.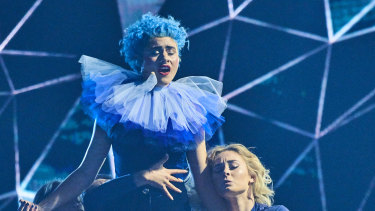 Montaigne topped Saturday's scoreboard with 107 points. Her song, Don't Break Me, is an art pop anthem about a low point in a relationship. Her act featured five backup dancers with simple choreography that took just a few hours to memorise. Montaigne says her blue hair and rosy cheeks were inspired by the character Mr Mime from the Pokemon television series.
Casey Donovan's song Proud came in second place with 100 points. Donovan won the public vote, but the professional jury – which accounts for 50 per cent of the vote – favoured Montaigne. Vanessa Amarosi's pop power anthem Lessons of Love finished third.