In her opening statement, Ms Harding read emails from the pair, including one from Ms Zeidan: "You are going nowhere, do you understand? You kill me, I will be your ghost… You hate me, I will still love you, you hide, I will hunt you down… You got no way to escape because only I love you and I'll have you forever."
Loading
In an attempt to distance herself from Ms Zeidan, Ms Marsden left school to pursue hairdressing, Ms Harding said.
The pair and their mothers met at a cafe in 2009, when Ms Marsden informed Ms Zeidan she did not want the friendship to continue.
The friendship was renewed in 2011 when Ms Zeidan introduced Ms Marsden to an ex-boyfriend who was in Goulburn prison for his involvement in a motorbike accident. Ms Marsden and "Brayden Sperteri" began a relationship despite never physically meeting.
Friends and family began to believe Ms Zeidan was catfishing her friend, but Ms Marsden "refused to explore the suggestion," Ms Harding said.
In text messages the couple exchanged on August 5, 2013, Mr Sperteri said he needed a break from their relationship. Upset, Ms Marsden left work and went home.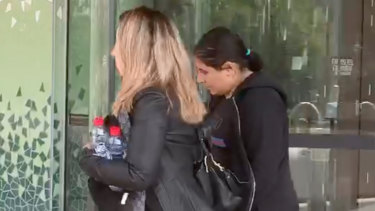 That evening, Ms Marsden told her mother she was meeting friends from work and left the house.
CCTV footage captures Ms Marsden near The Gap at Watsons Bay at about 4.25pm, when Mr Sperteri and Ms Marsden exchanged further texts.
Ms Harding said phone records show there are several mobile phones associated with Ms Zeidan and Mr Sperteri. Their contents will form part of the inquiry.
Ms Marsden also texted her mother: "Mum, you don't have to worry about him anymore, I finally found out what he is all about".
Video footage then shows Ms Marsden throwing an object into the ocean, which investigators believe was her phone. At 5.56pm, Ms Marsden is seen climbing down the cliff face and disappears.
Her body has never been recovered.
Senior detective constable Brent Bell told the court he contacted Goulburn jail, corrective services and the high school Mr Sperteri allegedly attended, but there was no record of him.
"I have not been able to locate any other potential records that suggested Bradyen Sperteri exists," he said.
Ms Marsden's parents, Teresa and Mark, and their three children were supported by extended family and friends.
Outside court, Teresa and Mark remembered their daughter as a "happy, go-lucky person".
"[She] looked forward to a future and all she wanted to do was get married and have kids," Teresa said. "She loved her siblings and her family."
Mark said if the family had their time over, they would have researched Mr Sperteri's background more thoroughly and "come to the conclusion he didn't exist."
"The truth is yet to come out. We have been waiting six years for the truth to come out. So hopefully, during the course of the next few days, we'll get that truth," he said.
The inquiry at the Coroners Court in Lidcombe continues on Tuesday.
Lifeline: (13 11 14 and lifeline.org.au), the Suicide Call Back Service (1300 659 467 and suicidecallbackservice.org.au) and beyondblue (1300 22 4636 and beyondblue.org.au).
Laura is a journalist for The Sydney Morning Herald.