The deluge has the potential to finally put out two out-of-control bushfires still burning in East Gippsland, but that will depend on where the heaviest rain falls.
"If they get the isolated 100mm over the fires, then yes, it's likely to be enough to put them out. But if they got just the lower-end of the rainfall, it may not be," Bureau of Meteorology forecaster Dean Stewart said.
"Over the coming weeks there'll be some more rainfall in that area and some high humidity so hopefully it should have a very positive impact on extinguishing those fires."
The rain, which will be heaviest in the afternoon, is part of the extreme system that has stretched down the entire NSW coastline and flooded Sydney.
The four-day rain total at Sydney's Observatory Hill is almost 400mm – or about 392mm – since 9am on Thursday.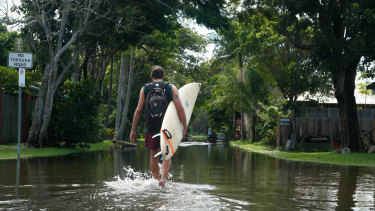 Ben Domensino, a meteorologist with Weatherzone, said that was the most rain for any four-day period in Sydney since 1990.
East Gippsland rain won't be quite so extreme, though minor flooding could hit Bemm, Cann, Genoa, and Snowy River catchments early in the afternoon.
"Catchments in the flood watch area are generally dry, however large parts have been significantly affected by recent fires. This may result in faster and stronger river responses to rainfall," the weather bureau's flood warning said.
"Heavy rainfall will increase the potential for localised flooding, landslides and debris across roads in fire affected areas. Rainfall runoff into waterways may contain debris such as ash, soil, trees and rocks."
Roads in East Gippsland have only just reopened to tourists after bushfires brought trees onto roads.
Mount Useful in West Gippsland had 43mm of rain in the 24 hours to around 7.30am on Monday. Falls Creek and Mount Delegate have both seen 26mm.
On the coast, Mallacoota had so far only seen 5mm and Orbost 7mm in the 24 hours to Monday morning.
The rain is expected to clear overnight and give residents a break before more rain hits on Tuesday.
Victoria's fires have burnt through more than 1.5 million hectares so far this season, with two still burning on Monday.
Loading
"There continues to be fire activity from the fire that crossed the New South Wales border into Victoria at Cape Howe," the warning on the Vic Emergency website said.
Residents in Gipsy Point, Karbethong, Lake View, Mallacoota, Maramingo Creek and Wallagaraugh are not under threat but have been told to keep watch.
"Fire crews are continuing with fire suppression activities in and around the Methodist Ladies College.
"Residents within the Mallacoota area may see smoke from this fire which is north and east of the Methodist Ladies College."
Rachel is a breaking news reporter for The Age.