WALLOPS ISLAND, Va. — Northrop Grumman postponed the launch of a commercial Cygnus cargo ship to the International Space Station Sunday (Feb. 9) due to a technical glitch at the mission's Virginia launch site.
The Cygnus spacecraft, filled with NASA supplies, was set to launch atop an Antares rocket — also built by Northrop Grumman — at 5:44 p.m. EST (2244 GMT) from Pad-0A of the Mid-Atlantic Regional Spaceport here at NASA's Wallops Flight Facility. But minutes before that liftoff, Northrop Grumman called of the launch try. 
"We have aborted today's launch attempt of our NG-13 mission due to off-nominal data from the ground support equipment," company representatives wrote in an update. 
The Cygnus spacecraft is packed with 7,600 lbs. (3,400 kilograms) of supplies for the three-person Expedition 62 crew living and working on the space station. The launch had a five-minute window and was aborted more than two minutes into that allotment. Northrop Grumman is still evaluating when to try again.
Related: Bacteria & bone: Here's the science launching on Cygnus NG-13
More: How Northrop Grumman's Antares rockets & Cygnus ships work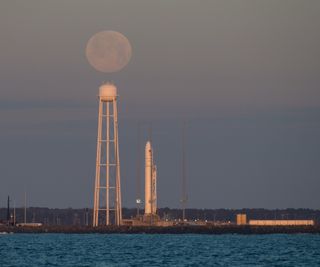 During the lead-up to launch, flight controllers paused the countdown at the T-5 minute mark for reasons that were not announced. The Northrop Grumman team then resumed the countdown, then pushed launch from an initial 5:39 p.m. EST target to its final 5:44 p.m. EST time — the end of the window — before scrubbing the launch try altogether. During live audio launch commentary, a mission team member referred to a regulator while discussing the abort, but more details were not yet available. 
The technical glitch marred an otherwise flawless countdown for Northrop Grumman's Antares and Cygnus vehicles. The launch had a 95% chance of good weather and that forecast appeared to be spot on. 
Aside from a light breeze, the sky was a dusky blue, with wisps of clouds and flocks of geese decorating the sky from time to time.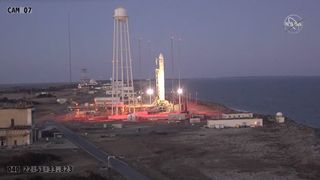 Northrop Grumman does have backup launch opportunities for Cygnus on Monday, Tuesday and Wednesday (Feb. 10, 11 and 12), but the weather forecast is increasingly grim. On Monday, there just a 20% chance of good launch weather, with those odds rising slightly to 25% on Tuesday and then increasing to 65% on Wednesday, NASA officials have said. 
NASA flight controllers at the agency's Mission Control Center have alerted the station's current Expedition 62 crew, which includes American astronauts Jessica Meir, Andrew Morgan and Russian cosmonaut Oleg Scripochka.
As Northrop Grumman reviews Sunday's Antares launch glitch, NASA and the European Space Agency are counting down to a different launch from Cape Canaveral Air Force Station in Florida. 
A United Launch Alliance Atlas V rocket is set to launch the joint ESA-NASA Solar Orbiter mission from Cape Canaveral at 11:03 p.m. EST (0403 GMT Feb. 10) to begin an ambitious mission to the sun. The powerful Solar Orbiter is designed to study the sun's polar regions from orbit to better understand the origins of solar weather and the sun's magnetic field.
You can watch the Solar Orbiter launch live on Space.com, courtesy of NASA TV, beginning at 10:30 p.m. EST (0330 GMT Feb. 10). 
Editor's note: Space.com senior writer Meghan Bartels contributed to this report from New York City. Editor-in-chief Tariq Malik contributed to this report from NASA's Wallops Flight Facility on Wallops Island, Virginia.
Email Meghan Bartels at mbartels@space.com or follow her @meghanbartels. Follow us on Twitter @Spacedotcom and on Facebook.