On Monday the court was played two police interviews with Mr Jubelin from early 2019, where he labelled the pursuit of him "vexatious", "heavy-handed" and a "witch hunt". He maintained that he recorded Mr Savage to protect his lawful interest, in case Mr Savage later made allegations about him.
Mr Jubelin also recounted a confrontation between himself and Detective Sergeant Craig Lambert on July 31, 2018. Mr Lambert was officer in charge of William's disappearance and Mr Jubelin oversaw him as investigation supervisor.
Mr Jubelin said the strike force held a briefing that day to discuss which information would be provided to a coronial inquest. He said whenever he mentioned Mr Savage, he felt Mr Lambert "tense up" and eventually the other officer was in "a very agitated state".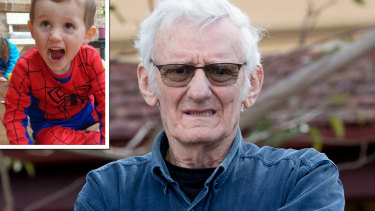 The court previously heard Mr Lambert did not believe Mr Savage was responsible for William's disappearance.
Mr Jubelin said he asked the rest of the strike force to leave the room after Mr Lambert went from "0 to 10" and became "very angry".
"I said 'Craig, you've been running this investigation for three years, give me a person of interest'," Mr Jubelin said.
He said Mr Lambert then stormed out of the room and other officers reported seeing him throw his phone and keys and say "f— it, I'm out".
Mr Jubelin said Mr Lambert, a kickboxing champion and former sparring partner, then came towards him "spitting venom" and wanting to fight. Mr Jubelin threw his belongings down and stood his ground, he said.
"He had lost the plot," Mr Jubelin said. "It was just ranting and ravings … I believe this job broke him."
Mr Jubelin later assumed the role of officer in charge when Mr Lambert went on sick leave.
Loading
Detective Senior Constable Louise Rodden, who attended the meeting in July 2018, took two pages of detailed notes that afternoon. She said Mr Lambert disagreed with a course of action posed by Mr Jubelin, then "a heated argument started" which could still be heard after she left the room.
Senior Constable Rodden said Mr Lambert later stormed into the homicide office saying "you can have it, I'm going home" before he encountered Mr Jubelin in the hallway.
She said she saw Detective Chief Inspector Grant Taylor, another homicide squad officer, separating Mr Lambert and Mr Jubelin.
Mr Jubelin's barrister Margaret Cunneen, SC, asked if "people were taking each man physically away from one another".
"Yes," Senior Constable Rodden said.
She agreed Mr Lambert was saying, "I'll take you any time, I'll take you on. PCYC, come on".
Detective Inspector Darrin Batchelor, who investigated Mr Jubelin, said other recordings were found on Mr Jubelin's police-issued phone. One of those recordings was audio of a Western Australian civil court proceeding involving Mr Jubelin and a conversation he had with a solicitor for the other side.
Mr Jubelin, who represented himself in that matter, said there was "no malicious purpose" to the recording, which was made to ensure he understood what happened after he had been awake for 30 hours preparing his case.
Detective Inspector Batchelor said there is a statute of limitations on the court recording, which is why it wasn't pursued.
Mark Leveson, the subject of another recording on Mr Jubelin's phone, told police he had been recorded with his permission.
The hearing continues.
Georgina Mitchell is a court reporter for The Sydney Morning Herald.