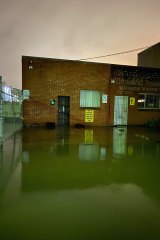 "I was desperately trying to use sandbags to block where it was coming through, but in 20 minutes the whole place was flooded," he said.
"It was a case of just rescuing what we could, and getting it in our car at the end of the street. I got my hard drives out and my camera gear but I've lost somewhere in the region of 80 to 100 prints which is my last four complete exhibitions. Ironically, one is a series of photos of icebergs."
Mr Harsent said Buckley Street was entirely flooded.
"One of the worst things was sightseers speeding through the area and causing extra waves to come into the studio, which didn't help," he said.
Mr Harsent shares the studio with his wife, a hairdresser, and his son, a musician.
"I moved my base back from New York to set up a space with my son and my wife. It's a place where the three of us work in harmony. I don't even know whether to laugh or cry to be honest with you."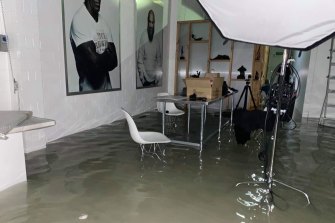 He said his wife's car was "totalled" and she had lost "$5000 to 6000 worth of makeup and various hair equipment" such as dryers and straighteners.
His son lost his sound system and furniture including a fridge. Books in the studio were also lost.
Loading
"Buckley Lane has always been prone to drains overflowing but there's never been something like this before. Today was just a mop-up and get ready for a skip to come tomorrow. It's devastating to say the least," Mr Harsent said.
To make matters worse, the insurance on the studio doesn't cover flood damage.
"The funny thing is, the stuff that's insured is the stuff I saved. But it is what it is – it's kind of numbing. I had some really good mates come over today and help with the mop-up."
"I'm going to go and drink a bottle of wine to numb myself more," he said.
Loading
Mr Harsent said a recent trip he took to bushfire-affected areas to take photos had given him perspective.
"It could be worse though. People have been affected far worse. I've been out documenting some of the bushfire affected areas in Kangaroo Valley, you see the devastation out there and there are people in a lot worse situations than me," he said,
"We're all alive. You just suck it up and go again, that's all you can do."
Matt Bungard is a journalist at The Sydney Morning Herald.