Cochlear is an interesting case. Demand for its product from Chinese patients has been hit hard because there is an understandable reluctance for people to expose themselves to the risk of infection associated with having surgery.
The extent to which this fear is justified or an overreaction depends on how long it takes to contain the virus. And that is anyone's guess.
This would make the impact on product demand far greater than it would be for, say, retailers in China.
Vitamin maker Blackmores, which is scheduled to provide an update to profit guidance on Wednesday morning, sits fairly neatly in the second wave of affected companies.
But its exposure is unusual. This is because a large portion of Blackmores Chinese supply chain is conducted via what is colloquially referred to as the 'suitcase trade'.
Many Chinese individuals and small wholesalers buy Blackmores products through retail outlets in Australia such as Chemist Warehouse, transport them to China and then sell the product into China via local websites.
Due to travel restrictions this supply channel has been compromised.
On the flip side, the demand from Chinese consumers for preventative health products such as vitamins is surging due to the coronavirus.
On Wednesday investors will find how the balance between these forces plays into Blackmores' profit.
The spike in Blackmores' share price in mid-January suggests investors thought the company would be a net beneficiary. More recent broker analysis suggests the opposite.
Meanwhile, the silver lining for Cochlear is the precedent provided by the 2002-03 SARS experience.
The company noted that during that epidemic it experienced a 'material' reduction in sales over a three-month period but once it was over sales spiked as the backlog was cleared.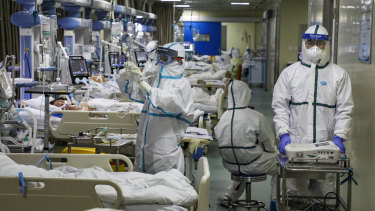 Plenty of other Australian companies that export to China are already seeing their share prices drop in anticipation of falling demand.
Commodities suppliers such as BHP and Rio Tinto fall into this category as do consumer-facing companies like Treasury Wine Estates.
The extent to which this fear is justified, or an overreaction depends on how long it takes to contain the virus.
And that is anyone's guess.
It's no coincidence that the update from Cochlear seemed to spur a sell off in Treasury Wine Estates and JB Hi-Fi.
Having released a better than expected half-year result this week JB Hi-Fi noted (rather than warned) that it sourced much of its product from China. While it hoped its high-volume customer status would provide it with enough muscle to receive preferential treatment from suppliers, if trade dries up JB will find itself short on some products.
Similarly Cochlear's revised forecasts for full-year sales do not factor in material disruption to the China supply chain.
Loading
"Our Chinese suppliers are expected to resume production of components, which are used primarily for our sound processors and accessories after the Lunar New Year shutdown.
"We have at least three months' inventory of most components and at this stage do not expect any disruption to our ability to supply products to our customers,'' Cochlear's chief executive Dig Howitt told investors on Tuesday.
But still investors were spooked. But the fear is not broad-based.
Yet while punters are cherry-picking and selling stocks they believe are exposed to China, the broader market is dancing along happily.
As one investor told me over the weekend: "Coronavirus is no more than a bad cold".
Elizabeth Knight comments on companies, markets and the economy.