It's a foul day in New Hampshire, but that hasn't stopped Gail Proctor from standing outside her polling station in Wilton, where she is holding a sign saying: "Make America kind again".
With less than six hours until the polls closed, Proctor, 69, is still undecided, although she has managed to narrow it down to three people.
"Elizabeth, because she's so smart and I feel she's the one with the skills, the ability and the experience to deal with what's really wrong in America, which is the money, the corporatists," Proctor said.
"Then my heart's always with Bernie, but I worry about electability. And then Pete."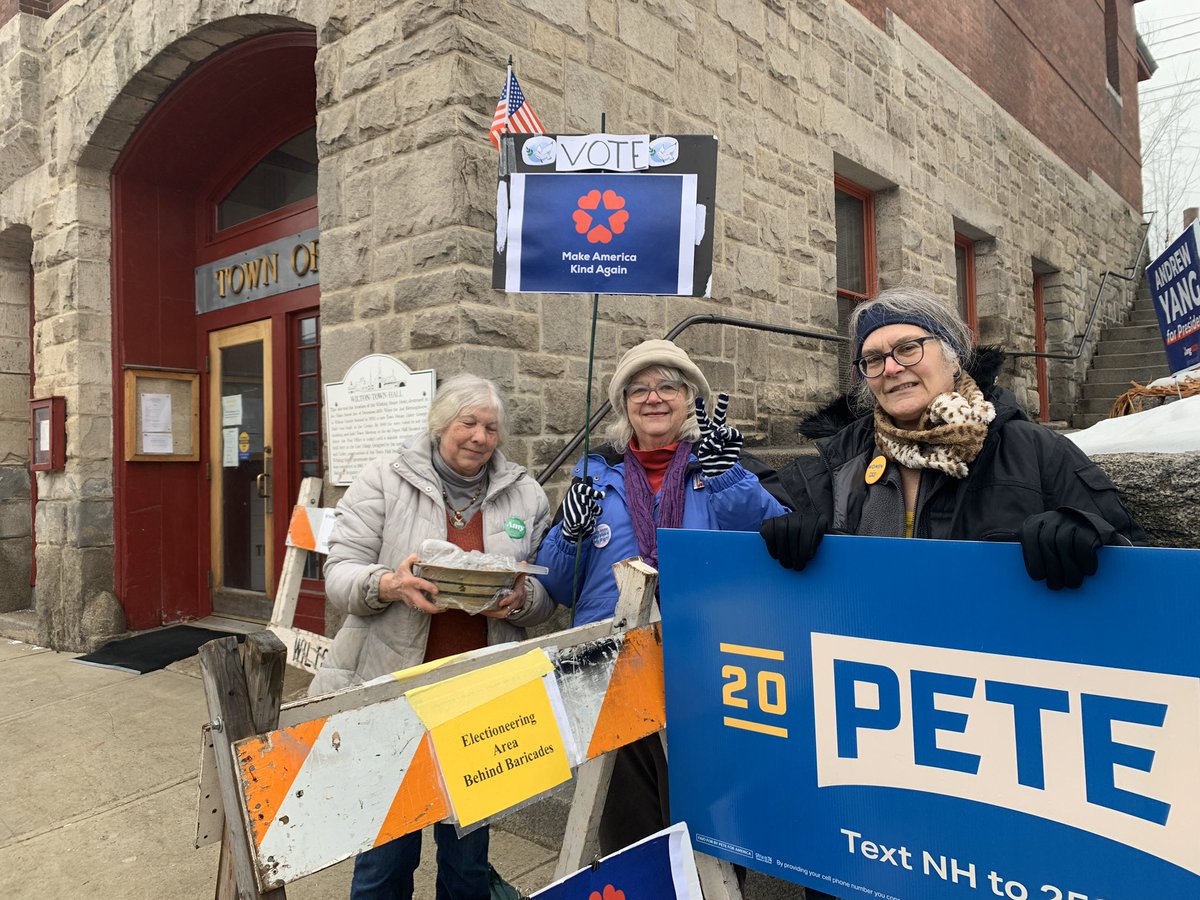 Karon Walker, 61, was also positioned outside Wilton town hall, about 25 miles south-west of Manchester. Walker was encouraging Proctor to vote for Buttigieg.
"He's my man, he's terrific. The antithesis of what we have in the Oval Office right now," Walker said. She was a Republican, until Trump won the party's nomination in 2016.
"The Republican party is now Trump's party, with the exception of Mitt Romney," Walker said. She decided Buttigieg was her candidate all the way back in April.
"Pete's intelligence and compassion and thoughtfulness and his demeanour, frankly. he's Not gonna get dragged into the fray," Walker said. "Wherever Donald Trump goes he creates havoc. And I think that if you allow yourself to be drawn into that and argue with him on his own terms, you've already lost. And I don't think Pete does that."
Proctor and Walker were joined by Gail Hoar, 79, an artist who lives nearby. Hoar was voting for Amy Klobuchar, who has made a late surge in New Hampshire.
"She's bright, she's non-divisive she has not taken a stand that castigates other people. If she differs on policy she says: 'We differ on policy but we're together,'" Hoar said.
"Also she is somebody that I think many people can relate to. I can't find a negative about her. She has not gone too far on the healthcare too quickly. We need to get to where Bernie is but we need to take time to get there."