"We are responding to this with immediate steps to minimise impact to the group's financial position," Mr Scurrah said.
The airline earlier this month dropped Hong Kong from its international network, with the coronavirus the final straw for the loss-making route.
Virgin on Wednesday said its capacity will fall by 3 per cent in the second half of the year and by up to 5 per cent next year.
Qantas last week said would make capacity cuts equivalent to grounding 18 aircraft until the end of May due to the coronavirus, and it expects the health crisis to cost it up to $150 million.
With its fleet reduction, Tigerair will exit five routes: Sydney to Adelaide, Cairns and Coffs Harbour, Melbourne to Coffs Harbour, and Hobart to the Gold Coast.
The exit of all remaining A320s will mean the Virgin Group will save costs by flying a single aircraft type, the Boeing 737, across both its domestic full-service and budget arms.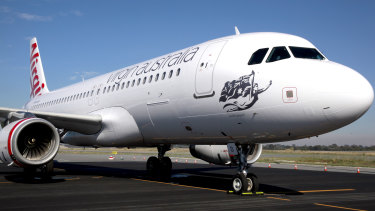 Virgin's revenue was 1.5 per cent higher at $3.1 billion, while revenue per available seat kilometre – a common measure of airline's efficiency – improved by 2.5 per cent.
Mr Scurrah, who has been in charge at Virgin close to 12 months, is targeting $75 million in savings by cutting 750 head-office jobs by the end of the year, and another $50 million through a supplier review.
"While the half year has seen us grow revenue and passenger numbers… we are still in the early stages of transitioning our business to a lower cost base," Mr Scurrah said.
"Therefore, the benefits of cost changes and further revenue efficiency have yet to be realised".
The company paid $700 million to buy back a 35 per cent stake in its Velocity Frequent Flyer business in October, which weighed on its statutory profit.
Regaining full ownership of the profitable and growing business was an "important highlight this financial year", Mr Scurrah said.
Virgin's underlying profit in the half tumbled from $112 million to $14.5 million as it was hit with a $40 million hike in it fuel bill, $12.5 million in additional costs from a new wage deal, $22.6 million in airport costs and $32 million in depreciation and rental expenses.
Business reporter at The Age and Sydney Morning Herald.