Harry then spoke to travel industry experts from the stage at Edinburgh International Conference Centre.
"We believe travel is a good thing. It is the heart of human experience, of cultural connections, and of new friendships," he said.
"It is a global powerhouse that employs hundreds of millions of people, keeping culture alive, protecting some of the world's most precious spaces, and that introduces us to people, places and wildlife that we've only ever seen on a screen. It is these experiences that we remember and cherish."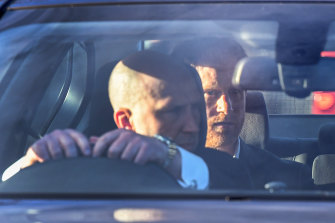 But he said of the rapid growth in the number of worldwide travellers: "If we do not act, and in large part get ahead of this inevitable surge, this massive increase will mean we see more of the world's beautiful destinations closed or destroyed, more communities becoming overwhelmed, more beaches shut because of pollution, and animals and wildlife driven from their natural habitat, which has a huge impact on communities and reduces tourism opportunities."
Harry and Meghan have been in Canada with their son Archie for several weeks but Harry came back to Britain on Tuesday, according to local media.
On Friday, he is due to visit the studios at Abbey Road in north London, where the Beatles recorded 11 of their 13 albums, to meet the singer Jon Bon Jovi and the Invictus Games Choir, who are recording a single for charity.
Loading
His trip to Britain comes after news last week that he and Meghan would not use the word "royal" in their branding, following weeks of talks between the couple and the royal family about how they will present themselves to the world in future.
Harry has spoken of his sadness at being forced to give up his royal duties, saying there was no other option if he and Meghan, an American actress, were to seek an independent future away from stifling media intrusion.