There are 32 leap year babies among the 2471 people taking the ship Carnival Spirit to Adelaide, which left on Thursday.
The 32 "leapsters" also get free drinks on Saturday.
So given that Margaret, who turns 72 on Saturday, has technically only had 18 birthdays, she is looking forward to her "first legal drink".
And Abbey, 20, can technically behave like a five year old.
Thirty-seven of Abbey and Margaret's friends and family are with them to celebrate.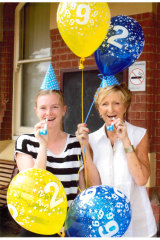 Abbey says she and her nan have a special bond: on non-leap years, they attend each other's birthdays – one on March 1 and one on February 28. But every four years, they celebrate together, on February 29.
Margaret says even old schoolmates will ring to wish her happy birthday.
"They say, 'it's February 29, oh I must ring Margaret'. Nobody forgets it on the 29th."
The cruise is a welcome stress release for the Alvin family: their homes in Bairnsdale were threatened by bushfire, and Abbey's mother and two sisters were trapped in Mallacoota while holidaying and had to be evacuated.
Back in Bairnsdale, Abbey said it was "horrible weather, and smoky".
"It was a very full-on week over Christmas and New Year so it's nice that we can get away now and celebrate and have a few days off," Abbey says.
Returning to Station Pier was emotional for Margaret. On March 1, 1950, this is where she and her parents and five siblings arrived in Australia, having emigrated from Bradford, Yorkshire – 70 years ago, on Sunday.
"My mum and dad landed here and didn't know a soul and they had six children. How brave were they to do that?"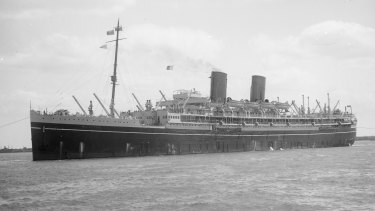 Margaret admitted that it was "a bit of a worry" to go on a cruise amid the coronavirus scare.
The ship's operator, Carnival Cruise Line, advised passengers it would take the temperatures of people with a fever or respiratory symptoms, and passengers who had been to China, Macau or Hong Kong in the last 14 days were banned from boarding.
Passengers were asked to observe basic hygiene such as covering their nose and mouth when sneezing and washing their hands often.
But Margaret never dreamed of cancelling the cruise. "My theory is, you do think about it, but you don't let it rule your life. You've got to live."
Carolyn Webb is a reporter for The Age.