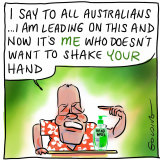 Australians who are waiting for elective surgery will probably have to wait longer so hospital beds can be used for an influx of people.
Health Minister Greg Hunt says this is about putting "surge capacity" into the health system and something he will discuss with his state counterparts at a meeting on Friday.
The travel ban on China will last for weeks and possibly months. Morrison said the latest advice to the national security committee of federal cabinet was the ban should not be extended to other countries.
"There are some challenging months ahead," he said. The signal on timing was crucial and means greater damage to the economy and the budget surplus.
Loading
Morrison spoke of "targeted and modest and scaled" policies to boost the economy but he also said it was too early to be sure about the scale of the threat. Treasury cannot finalise its analysis at this point.
"In terms of broader, larger, fiscal stimulus-type responses, that is not the advice we're receiving from Treasury," Morrison said. The key point is his use of the present tense. Future events will influence future briefings.
The government has acted quickly at every stage of the coronavirus outbreak. Rather than wait for the states, as it did with the bushfires, it has taken the lead and coordinated the response.
Those who wondered whether Morrison would learn from his mistakes can now see the answer.