Bindi Irwin and Chandler Powell are reportedly getting married at Australia Zoo on the Sunshine Coast right now, hours before Australia's wedding restrictions are enforced.
9News photos show Bindi emerging from a car, while wearing a white gown.
Bindi's brother, Robert Irwin, is expected to walk her down the aisle in place of their late father, Steve Irwin.
As of midnight, Australian weddings can be no larger than five people including the couple, a celebrant and witnesses.
"I think most heartbreaking of all, weddings now can only include the couple the celebrant and the witnesses," 9News Political Editor Chris Uhlmann said last night.
READ MORE: Everything we know about Bindi Irwin and Chandler Powell's wedding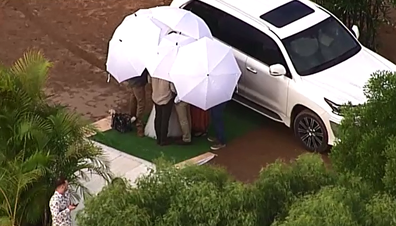 It was on Bindi's 21st birthday in July 2019 that Chandler proposed. After he presented his childhood sweetheart with a diamond ring, they both took to Instagram to share the happy news.
"She said YES! Almost 6 years ago we met at Australia Zoo," he revealed on Instagram at the time. "I immediately fell head over heels for her kind and thoughtful heart that radiates so much light. "Proposing in her very favourite place in the zoo, surrounded by animals, seemed like the perfect way to embark on this incredible new chapter in our lives. Bee, I love you more than anything in this world and I always will. Happy Birthday."
Bindi also shared her excitement on her Instagram account, while showing fans a close-up of her diamond ring.
"On my birthday I said 'yes' and 'forever' to the love of my life," she wrote. "Chandler, close to six years ago I fell in love with you and every day since has been a whirlwind of adventure and true happiness. I'm so looking forward to spending our forever together as your wife. Here's to a lifetime of friendship, purpose and unconditional love — Now let's get married already!"