"I want to stress again that this is a time that we all need to step up," Ms Berejiklian said, adding NSW had some of the best statistics in the world in terms of tracking cases.
NSW Chief Health Officer Kerry Chant said the number of cases in the state had increased to 1029, including two children under the age of 10.
Dr Chant said it was the first time children in NSW had been diagnosed with coronavirus, with one aged 7 and the other just two-months-old. They are not related cases and both are in isolation.
A significant number of new cases were linked to the Ruby Princess cruise ship, Dr Chant said.
Asked who was to blame for the Ruby Princess debacle, Ms Berejiklian said all authorities, including NSW Health, had to step up when it came to keeping borders safe.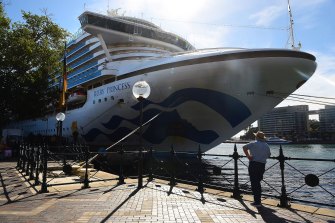 Loading
Dr Chant said all passengers on the Ruby Princess had been told to self-isolate and many did not develop symptoms until the days after the ship docked in Sydney.
"We are taking this situation extremely seriously," Dr Chant said. "We will be releasing a report on the cruise ship so we are totally transparent to the community."
Ms Berejiklian also said NSW Police's Crime Stoppers hotline was receiving an increasing number of calls as people "dob in" those who are not doing the right thing around self-isolation.
It was expected to received as many as 250 calls on Wednesday. The state government will also employ an extra 1000 people at Service NSW to help track and monitor people who are self-isolating.
Alexandra Smith is the State Political Editor of The Sydney Morning Herald.