The entire accounts department, contract managers, the human resources team and even receptionists were sent on a mission to find bulk supplies of surgical masks, thermometers, antibacterial wipes, hand sanitisers, gloves and Panadol.
Loading
"There were numerous requests from the HR manager and even our direct reporting line [which] prioritised the assisting of the company in gathering these supplies over other work activities," said the source. The entire accounts department were absent for days as they were out purchasing supplies, he said.
In a statement to the Herald, the Greenland Group confirmed the shipment of medical supplies in January and February saying it "felt compelled … to assist in efforts to mitigate the spread of the virus, which had caused a shortage of crucial medical supplies in China."
Greenland Australia supported the group's initiative "by arranging for medical supplies to be dispatched to China, which at that time, was the epicentre of the outbreak," the statement said.
The boardroom and meeting rooms of Greenland's headquarters in Market Street were used to repack the medical items into boxes stamped with the company's logo. Pallet-loads of the medical supplies were then sent to China.
Sherwood Luo, the managing director of Greenland Australia, posted photographs of this occurring on social media.
For instance on February 13 he posted on WeChat "#CombatCoronavirus, Greenland Australia is Taking Action. The second batch of non-contact forehead thermometers will soon take off to China! Coronavirus situation is serious, Chinese people, local and overseas, are trying their best, fighting together to combat the virus."
At this time China was battling the COVID-19 epidemic. As of February 14 Australia had only 15 known cases. It now has more than 2,300.
According to a company newsletter, the Greenland Group sourced 3 million protective masks, 700,000 hazmat suits and 500,000 pairs of protective gloves from "Australia, Canada, Turkey and other countries."
The newsletter also said, "Greenland Group Australia also organized the manpower and material resources to urgently purchase medical supplies such as masks, protective clothing and goggles in major Australian cities."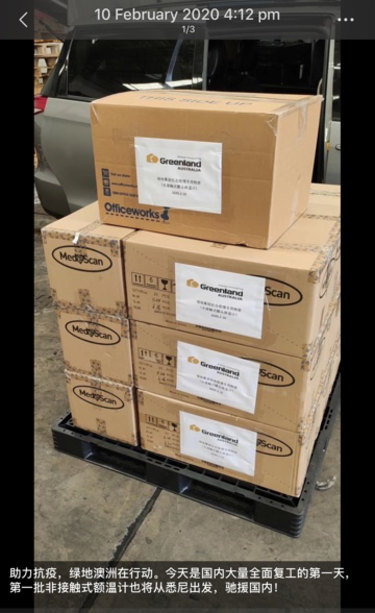 The Greenland group, which is majority owned by the Shanghai government, has sold more than a billion dollars worth of residential apartments in Sydney and Melbourne since its arrival in 2013.
Its flagship project, 'Greenland Centre Sydney', in Bathurst Street in Sydney's CBD, will be one of the tallest residential towers in the city.
According to its website, the Greenland group says it has been consistently listed by Fortune Magazine as one of the 500 largest companies in the world. The company also claims that of its 23 ultra-high-rise projects under construction, four are among the world's top ten tallest buildings.
Kate McClymont is an investigative journalist at The Sydney Morning Herald.