Interim NRL chief executive Andrew Abdo met with ARL Commission chairman Peter V'landys for more than three hours on Friday morning to map out the restructured season, which includes State of Origin at the end of the campaign. They will take the plan to clubs and players next week, and to broadcasters this afternoon.
V'landys also spoke to NRL coaches on a phone hook-up. They were told of the NRL's desire to find middle ground between the two broadcasters and a potential season of about 17-19 rounds.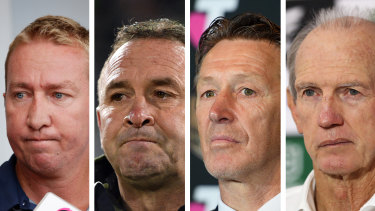 In an interview with Today Show host Karl Stefanovic on Friday morning, the ARLC chairman said he was saving his "best punches to the end", hinting at the ultimatum he would deliver to broadcasters.
V'landys vowed to sort out the 2020 season by the end of Friday after describing recent criticism about the game's attempt to return as "scaremongering and alarmist rhetoric".
"This is like a boxing match, you take a few blows to the head, a few body blows, but you save your best punches to the end," V'landys said on the show.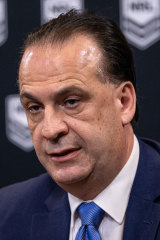 "I think you'll find on the 28th of May we will start and we won't be a problem … We have two different broadcasters – one has a different view to the other. Today is D-Day for me. A decision will be made as to the length of the season between the two broadcasters.
Loading
"We will meet our contractual obligation to the broadcasters but a decision has to be made. The procrastination has been taking long enough. A decision will be made today."