In Fitzroy, Kelly Elgin and her husband Matt are quite content keeping their six-year-old daughter Frankie home for the foreseeable future.
"We've been lucky. My work's really flexible and Matt's at home as well and it is just one kid," Kelly said.
"I'd hate to go back early and put her at risk and her teacher at risk, who's young, but they're not all young.
"I think that would be horrible to have to pull her out again (if the situation changed). I'm quite happy to get it right the first time."
Ringwood mother Lauren Parker said sending kids back to school in the next few weeks would be hugely inconvenient, given initial advice that Victorian schools would be largely closed until the end of this term.
"I've planned out the entire term based on their advice, including taking my 3½-year-old out of childcare until the end of term two," she said.
"That kind of up-ends our planning. I think they perhaps should have waited a little bit longer with the data and been less trigger-happy closing down schools for the whole term."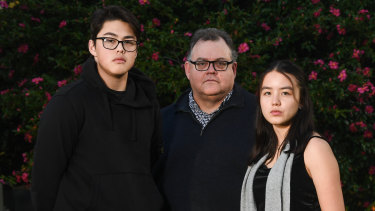 East Melbourne father Scott Minehane would love to see his children able to return to school in early May.
He said remote learning had been particularly difficult for his son, Caleb, who's in year 12, but also hard for daughter Tara, who is in year 10.
Mr Minehane said a return to school before the end of term two on June 26 would be preferable.
"Certainly, the idea they would do another nine weeks (home schooling) until June 26, I think is – wow — it's a big loss of time."
Mr Minehane said while the initial days of home learning were a novelty, the thrill had worn off.
"They're diligent but it's just not the same as being in class. There's a later get-up, you've got to be very self-motivated," he said, noting there was also plenty of uncertainty around dates of exams, and even the end of the school year.
Loading
With homework thrown into the mix, his children could spend 10 to 12 hours a day in front of a screen.
South Australia and WA are urging parents to send their children to school this week, while NSW plans to progressively reopen schools from May 11.
Victorian Premier Daniel Andrews said on Monday the results of a coronavirus testing "blitz" would be used by mid-May to inform any potential loosening of restrictions, including schools.
Larissa is a reporter and producer