Labor's foreign affairs spokeswoman Penny Wong accused Mr Morrison of "dragging his feet" after the UK announced it would offer three million Hongkongers residency last week."In the meantime, temporary visas for Hong Kong citizens in Australia have been expiring every week," she said.
China maintains the new Hong Kong laws are necessary to restore business confidence, guarantee the safety of its citizens and put an end to 15 months of protests over Beijing's increasing influence. The Australian visa offer will further strain bilateral relations that have sunk to historic lows during the coronavirus pandemic.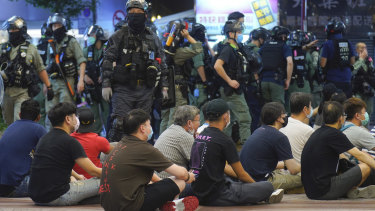 The extradition treaty signed by Australia and Hong Kong is also set to be re-evaluated following the passage of the laws designed to stamp out the pro-independence movement and eliminate threats to the Chinese state. The current treaty has a "no evidence standard", which means Hong Kong can request an extradition from Australia without providing a brief of evidence. The laws are so broad that attending a pro-independence rally in Australia could be regarded as a threat to Chinese national security.
Australia can refuse an extradition request if it has substantial grounds for believing the accusation is politically driven. The Turnbull government abandoned plans for a broader extradition treaty with China in 2017 after an internal revolt over concerns about China's opaque judicial system.
Labor's shadow attorney-general Mark Dreyfus said on Wednesday it may now be untenable for Australia to maintain a separate extradition treaty with Hong Kong.
Attorney-General Christian Porter said the Chinese legislation changes necessitated a re-evaluation of the treaty.
"Some of the sharper laws from the mainland are being applied in Hong Kong and that represents a very, very significant change in circumstances," he said.
"Hong Kong is now legally a very different place with a different set of laws applying to travel to than it was only a matter of weeks ago."
Australia's largest telecommunications provider, Telstra, was on Wednesday re-assessing its exposure in Hong Kong, where it has a data centre. The passage of the new laws will compel them to hand over information for national security reasons if requested by the Chinese government. "We are working through the implications of the new laws," a Telstra spokeswoman said.
The Chinese embassy in Canberra rebuked Tuesday's upgraded Department of Foreign Affairs travel advice that warned Australians travelling to China and Hong Kong that they may be arrested without evidence.
Labelling the claim ridiculous, a Chinese embassy spokesman said that as long as Australians abide by Chinese laws they had no need to worry.
Loading
"However, those who engage in illegal activities, such as drug smuggling or espionage, will be dealt with according to the laws in China, as is the case in all other countries," the spokesman said on Wednesday.
Australian-Chinese academic Yang Hengjun was indicted on espionage charges in March. Dr Yang, a pro-democracy activist who became an Australian citizen in 2002, was arrested by the Beijing State Security Bureau on suspicion of endangering Chinese national security in August 2019.
Melbourne actor and motivational speaker Karm Gilespie remains in a Guangzhou jail after being sentenced to death in June for attempting to smuggle 7.5 kilograms of ice out of China.
Eryk Bagshaw is the China correspondent for The Sydney Morning Herald and The Age. Due to travel restrictions, he is currently based in Canberra.